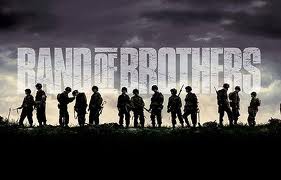 Band of Brothers is a World War Two miniseries based on the best-selling book of the same name by Stephen Ambrose. It follows the men of Easy Company, 2nd Battalion, 506th Parachute Infantry Regiment, 101st Airborne Division. It received positive reviews of 8.8 and 9.6 and won a Golden Globe award for best miniseries.
Band of Brothers takes place from 1942-1945, following from the Airborne Infantry's training at camp Toccoa, Georgia, USA, to various places in Europe, notably Normandy (France), Holland, Belgium and Germany. It is set during the European theater of World War II.
It follows the then newest branch of the United States Military, the Airborne Infantry, which is part of the U.S. Army. It centers around Easy Company, 2nd Battalion, 506th Parachute Infantry Regiment, 101st Airborne Division. It follows these paratroopers/soldiers from D-Day, through the Battle of the Bulge, to the end of the war in Europe during World War II.
Characters
Edit
There is a variety of characters in the miniseries. The story focuses on Richard D. Winters, who is the main character of the series. However, each episode focuses on a different character despite this. These are:
Lewis Nixon - an alcoholic who is friends with Winters
Denver "Bull" Randleman - an overweight southern trooper, skilled with a rifle
Herbert Sobel - the over strict former CO of Easy Company
William "Wild Bill" Guarnere, a paratrooper with a grudge against the Germans
Robert F. Sink - the CO of the 506th
Joseph Toye - an unlucky trooper who gets wounded frequently
David Kenyon Webster - translator for Easy Company
Buck Compton - an officer popular in the Company
Private Albert Blithe - a soldier who was separated from Easy during Operation Overlord
Joseph Liebgott - a skinny German descent translator and paratrooper
Donald Malarkey - a friendly, Irish-American trooper
George Luz - a humorous trooper
Eugene Roe - the Company medic, and many others.
Band of Brothers has 10 one hour-long episodes in the series. Even though Winters is main character, there is a main focus for each episode.
The characters that are portrayed are actually the real members of Easy Company. Prelude to each episode contain prerecorded interviews and some of them can be seen in those videos.
Episode No.

Title
Directed
Written by
Main Focus

Airdate

1
"Currahee"
Phil Alden Robinson
Erik Jendreson & Tom Hanks
Herbert Sobel & Richard Winters
September 9, 2001
Herbert Sobel trains the men of Easy Company at Camp Toccoa for the jump in Europe, while Richard Winters forms a small rivalry with Sobel.
2
"Day of Days"
Richard Loncrain
John Orloff
Richard Winters
September 9, 2001
Richard Winters jumps into Normandy with the rest of Easy Company, and meets his first taste of combat.
3
"Carentan"
Mikael Salomon
E. Max Frye
Albert Blithe
September 16, 2001
Albert Blithe is among the last to regroup with Easy Company at Normandy, but has trouble adjusting to combat.
4
"Replacements"
David Nutter
Graham Yost & Bruce C. McKenna
Denver Randleman
September 23, 2001
After Normandy, the survivors of Easy Company jump into Holland with fresh new replacements, but are bested at Nuenen while Denver Randleman goes missing, but is found eventually.
5
"Crossroads"
Tom Hanks
Erik Jendreson
Richard Winters
Sptemer 30, 2001
At the end of Market Garden, Winters leads a great victory at the Netherlands Crossroads, and is made Battalion XO. Later, the men are sent to the Ardennes forest, against the German invasion.
6
"Bastogne"
David Leland
Bruce C. McKenna
Eugene Roe
October 7, 2001
At Bastogne, Eugene Roe is having trouble with medical supplies, but forms a bond with a Belgian nurse.
7
"The Breaking Point"
David Frankel
Graham Yost
C. Carwood Lipton
October 14, 2001
C. Carwood Lipton is struggling with the conditions at the Ardennes, as many men are killed or wounded for the capture of Foy.
8
"The Patrol"
Tony To
Erik Bork & Bruce C. McKenna
David Kenyon Webster
October 21, 2001
David Kenyon Webster returns with Easy Company from wounds, and participates in a prison patrol at Haguenau at the last stage of the Battle of the Bulge.
9
"Why We Fight"
David Frankel
John Orloff
Lewis Nixon
October 28, 2001
After jumping into Germany with little resistence, Lewis Nixon is adjusting to the civilians and with drinking problems, but he and the rest of the Company soon discover a reason to fight.
10
"Points"
Mikael Salomon
Erik Jendreson & Erik Bork
Richard Winters
November 4, 2001

After catching Hitler's Eagles Nest, the war ends, and many men of Easy Company head home.
Ad blocker interference detected!
Wikia is a free-to-use site that makes money from advertising. We have a modified experience for viewers using ad blockers

Wikia is not accessible if you've made further modifications. Remove the custom ad blocker rule(s) and the page will load as expected.