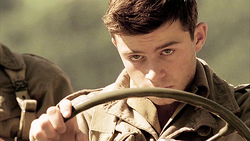 Sergeant Wayne A. "Skinny" Sisk was a non-commissioned officer with Easy Company. He was one of the original 140 Toccoa men of Easy Company. Sisk was portrayed by Philip Barantini.
Biography
Edit
Sisk enlisted and volunteered for paratroopers and was sent to Toccoa, Georgia for training, then assigned to Easy Company. Sisk, along with Frank Perconte, Herman Hanson and Carwood Lipton, were the four first soldiers in Easy Company.
He took part in actions from Normandy to the Battle of the Bulge, during the later of which he was wounded on his lower right leg. He recovered and rejoined Easy.  On the flight to Normandy, Sisk was in Winters' plane, and broke the tension by asking the men if they "Wanted to buy a good watch". 
In Normandy, just outside of Carentan he came across a dead German, arm pointing to the sky. He took the Germans watch, and stood on the German's stomach, perhaps deliberately, saying "Sorry buddy". Later in the war, he, Lynch, Liebgott and Moone (replaced by Webster in the mini-series) were tasked with finding an alleged Concentration Camp Commandant. After tracking him down to a farmhouse, Sisk shot the man in the back as he tried to run away.
Ad blocker interference detected!
Wikia is a free-to-use site that makes money from advertising. We have a modified experience for viewers using ad blockers

Wikia is not accessible if you've made further modifications. Remove the custom ad blocker rule(s) and the page will load as expected.