William Heister Dukeman Jr was a paratrooper that served in Easy Company 506th Paratrooper Infantry Regiment and the 101st Airborne Division, he was close friends to John Martin and Frank Peconte and Albert Blithe and Everett Gray. A character based on him was portrayed in the miniseries Band of Brothers.
Early Childhood.
Edit
William Heister Dukeman Jr was born in Strasberg, Colorado, at Living Springs Ranch, on September 3rd 1921. His father was William Heister Dukeman Sr., and his mother was Gertrude Nordow. He had three brothers, Harry, Charles and Clem, and a sister, Mildred. He was given the nickname of "Bud", to differentiate him from his father William, Sr. His mother stated that he was born in 1922, instead of 1921.
Bud attended school in Strasburg, until 1929 when the family moved to Keenesburg, Colorado. He graduated from high school in 1939. After graduation, he, Everett Gray, and two friends traveled to Albuquerque, New Mexico, where they found jobs. He a Gray decided they would earn more, and be better off, if they joined the army, which they did. They volunteered for the Airborne Division.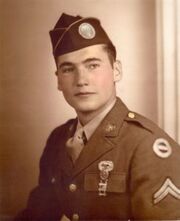 He trained at Camp Taccoa under Captain Sobel. There he became good friends with John Martin, Frank Perconte and Albert Blithe. After qualifying as a paratrooper, by completing five practice jumps, he and the others were sent to Camp Mackall, to finish basic training. They were shipped overseas, to a staging camp in Aldbourne, England, where they received more basic training.
William Dukeman dropped on D-Day and became separated from Easy Company. He was wounded in the chin when he was struck by enemy fire. He took part in the battle of Carentan, during which Easy Company took the town. He also partook in the battle at Bloody Gulch, which he survived. Dukemane later took part in Operation: Market Garden, in Holland, and he also took part in the battle for Nuenen.
During a night patrol at a crossroads in Holland, Dukeman was killed when a group of germans, hidden in a culvert under the dike-road, fired a rifle grenade at him. The next day, Easy Company defeated two German SS Companies at that site.
He is buried at Netherlands American Cemetery, Plot G, Row 2, Grave 11, Margraten, Netherlands.